Halwell Lodge
Fore Street Lelant
Tel: 01736752003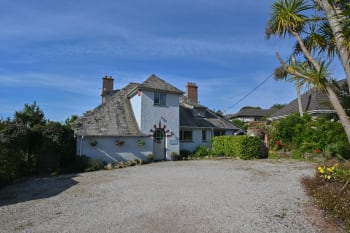 We provide high quality, comfortable accommodation in a calm and relaxing setting,a great place to stay and a superb base for exploring St Ives with its lovely beaches, harbour and narrow streets with its unique style of shops, galleries, pubs, and restaurants offering great food in great locations, Cornwall's rugged coastline, famous gardens and spectacular countryside. We are within easy reach of the South West Coastal Path and the beautiful beach of Porthkidney Sands just a few minutes walk away where you can really enjoy breathtaking views, peace and quiet and really get away from it all. Our rooms are decorated with original art works from mainly Cornish artists, including well know artists from the last century such as John "Lamorna" Birch and Hyman Segal, as well as modern artists for example, Paul Lewin and Alexandra Dickens.
Facilities
Breakfast Room
Conservatory
Early Breakfast By Arrangement
Garden For Residents' Use
Internet Access
Packed Lunch By Arrangement
Policies
Check In: Between 16:00 and 18:00
Check Out: Between 8:00 and 10:45
Wi-fi: Wireless internet is available and is free of charge.
Smoking: There is no smoking permitted anywhere within the property.
Parking: Parking for all guests is available on site and is free of charge.


Children: Children aged 5 or over are welcome.
Pets: Pets are not allowed.
Groups: All groups are accepted.
Average
4.9
out of 5
25 reviews
100% recommend
Reviews
2nd January 2020:

Very friendly and welcoming, nothing was too much trouble, and a lovely breakfast each day.
Tips:
The watermill is a good option for evening meal. Godrivy nature reserve is a lovely place to visit, and for the keen walkers the coastal path to St Ives provides some beautiful sights.
Would Recommend: Yes
28th October 2019:

I stay in hotels and guest houses all over the UK many time a year and can honestly say that our stay at Halwell Lodge was perfect. Steve and Tress are fabulous hosts taking the time to chat with guests and answer any questions. Halwell Lodge is beautifully furnished and decorated, the breakfast in the morning was exceptional
Tips:
100 meters from the Badger Inn, a great pub serving excellent food and beer
Would Recommend: Yes
14th October 2019:

Hosts were immediately welcoming and friendly. You step through the front door into a family home and it feels just right! Our room was bright and comfortable with everything we needed for our stay which unfortunately, was only one night! Lovely white, fluffy towels in the en-suite with toiletries should you need them. Breakfast...….amazing.Lovely choice of cereals and, my favorite, fresh fruit and greek yoghurt. I have never tasted bacon like it. Breakfast was cooked to perfection. We even left our car there after booking out so we could go out for a walk...….to walk that breakfast off!
Would Recommend: Yes
6th October 2019:

No complaints
Would Recommend: Yes
6th October 2019:

Lovely people made to feel very welcome would strongly recommend!
Would Recommend: Yes
26th September 2019:

Would Recommend: Yes
23rd September 2019:

the bathroom was small and there was no extract for removing moisture, and no switch for the towel rail. the address should be shown with the town.
Would Recommend: Yes
21st September 2019:

Would Recommend: Yes
1st September 2019:

A lovely couple, very friendly and helpful. Excellent breakfast. Easy parking.
Tips:
The bus stop is just a minutes walk from the property. 3 minute walk to the pub, 5 minute walk to the train station.
Would Recommend: Yes
25th August 2019:

Would Recommend: Yes
12th August 2019:

Hi Teresa, everything had been fine. Only the big traffic was a Little Problem to sleep without open the window. Lots of greetings Antje
Would Recommend: Yes
10th August 2019:

ambiente accogliente molto ben curato negli arredi , deliziosa la veranda dell colazione che si affaccia su in giardino curatissimo. La gentilezza,il sorriso e la disponibilità della proprietaria hanno reso il nostro soggiorno molto piacevole.
Would Recommend: Yes
6th August 2019:

Beautiful B&B the food and owners are lovely only problem was the bed was really squeeky
Tips:
Great location
Would Recommend: Yes
3rd August 2019:

Very comfortable beds and very clean Lovely breakfast
Tips:
Would recommend taking the train into St Ives from the station just down the road
Would Recommend: Yes
27th July 2019:

Everything was perfect, owners/staff were really friendly & attentive,
Tips:
We were there to play golf which were great, and served good food, so did not eat at restaurants, but the Badger PH,(2 min walk) Was very welcoming & the menu looked great.
Would Recommend: Yes
20th July 2019:

Would Recommend: Yes
17th July 2019:

The house and the garden are very beautiful and the hosts are very friendly and welcoming. It was a pleasure to stay at Halwell Lodge.
Tips:
Halwell Lodge is a great place to stay if you want to visit Land's End and St.Ives, both places which are a must see.
Would Recommend: Yes
8th July 2019:

We had a lovely stay at Halwell Lodge. Hosts gave us great tips for sightseeing and restaurants.
Would Recommend: Yes
4th July 2019:

Would Recommend: Yes
1st July 2019:

We have been really well! Everything perfect, such a beautiful Place and such an adorabile couple of owners!! Thank you!!
Would Recommend: Yes
29th June 2019:

Fab hosts!
Would Recommend: Yes
28th June 2019:

There was only one slight reservation and that was the size of the en-suite bathroom which is a little cramped, but manageable unless you are over 6'.
Tips:
The local pub (The Badger) does lovely food and is only 200 yards up the road. Unfortunately not much else to say as we were only there for a single night
Would Recommend: Yes
26th June 2019:

Halwell Lodge is lovely house with great owners. There are 4 rooms for guests ( 2 on ground floor and 2 on 1 floor). Excellent beds with Laura Ashley bedding. Cosmetics are from Eden. Nice towels. The only negative is small bathrooms. But with all needed facilities and very clean. Breakfast if great, served on bone china and crystals. Guests can use conservatory and garden. There is a lot of parking space. Owners are great people, who provide excellent and very friendly service.
Would Recommend: Yes
26th June 2019:

Friendly, lovely couple. Beautiful B&B. We had a great time the breakfast was beautiful. Thanks so much Debbie & Richard
Would Recommend: Yes
25th April 2016:

The ambience of the house was very warm and attractive as were our hosts Peter and Debbie. We were well looked after. Breakfast was first class ,served in a fresh looking dining room with a lovely bowl of fresh fruit ,yogurts, and cereals to tempt you to start with. Fresh flowers were placed around the house adding colour. Very beautiful . We had room 4 which had an extra nook with a single bed giving the feeling of a small suite of rooms and extra space.
Tips:
Halwell lodge is very well placed with Penzance 10 minutes away . There is park and ride to st Ives close by ,very necessary in the high season I imagine. There is a nice pub within walking distance and a pub/restaurant ( Watermill), and a wine bar serving tapas type foods within walking distance or 2 minutes by car if you don't want a walk back up the hill.
Would Recommend: Yes
.