Glanmor
Glanmor The Belyars St Ives
Tel: 01736 795613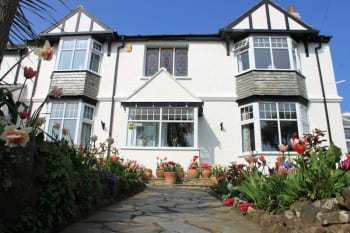 Set in a large garden, we are ideally situated in a quiet area of St Ives, yet only minutes away from the town centre, wonderful beaches, harbour, shops, pubs and amazing restaurants. We have our own on-site car parking. All our rooms have been thoughtfully decorated with the emphasis on style and comfort. Our aim is to ensure that your every need is met and that your stay with us is a memorable and delightful experience leaving you with the desire to stay longer.
Availability
There are no rooms available at Glanmor
for these dates.
Please try other dates or select a
different property
.
rooms
Facilities
Breakfast Room
Children Welcome
Conservatory
Garden For Residents' Use
Internet Access
Policies
Check In: Between 14:00 and 20:00
Check Out: Between 10:30 and 11:00
Wi-fi: Wireless internet is available and is free of charge.
Smoking: There is no smoking permitted anywhere within the property.
Parking: Parking for all guests is available on site and is free of charge.


Children: Children aged 3 or over are welcome.
Pets: Pets are not allowed.
Groups: No stag and hen groups.
Average
4.9
out of 5
41 reviews
100% recommend
Reviews
5th June 2019:

Really enjoyed our week with Margaret, Dennis, Paul and their lovely family. They made us very welcome and our room that overlooked the rear garden was first class. The breakfast menu was also excellent and we certainly look forward to our next stay. Many thanks to you all.
Would Recommend: Yes
19th May 2019:

My room was spotlessly clean and the decor was lovely and fresh. The room was spacious with a bay window looking out over Glanmor's gardens and across to the sea. The breakfasts were delicious. There was plenty of on site parking. Margaret and her family were very welcoming. Thank you for a perfect stay.
Would Recommend: Yes
6th May 2019:

Comfortable and clean. Delicious breakfasts. Very helpful and kind. We had a great view out to sea from our room. Tiny bathroom.
Tips:
Steep hill up to Glanmor, but ok for us. St Ives has so much to offer - the light is fantastic there, fantastic beaches, lots of art, and some very good cafes and restaurants. We particularly like Porthmeor Beach cafe for brunch, lunch, or supper (best to book if you want a table inside for the evening).
Would Recommend: Yes
30th August 2018:

Been coming for the last 6 years Margaret, Den and Paul are more like family than owners /staff. The accommodation is like a high end hotel luxurious and comfortable with little personal touches that adds to a relaxing holiday. The breakfasts are liable to put inches on your waist, but in a good way. Brilliant
Tips:
Great local beaches, Porthminster for chilling, porthmeor for the board enthusiasts. A great choice of pubs, bars, cafes and restaurants. Good shops and the Tate gallery.
Would Recommend: Yes
17th August 2018:

Excellent stay as always. Thank you for making us feel so welcome.
Tips:
If looking to eat in St Ives make sure you book up a couple of weeks in advance.
Would Recommend: Yes
18th June 2018:

Would definitely stay there again. Great choice of food. Excellent service. Very friendly staff.
Would Recommend: Yes
2nd May 2018:

Glanmor is owned by a caring family Margret, Dennis, Paul. Having stayed at Glanmor for 18 years it improves every year! Not that there is anything to improve on in the first place! The Breakfast is the greatest with a choice of cereals, yogurt, juices and toast... as well as your main breakfast which is your choice, the croissants are my favourite !! The bedrooms are spacious, extremely clean and looked after as well as cleaned every day whilst you enjoy your day around st ives and come back at night to a fresh clean bed! The quality of service given throughout your whole stay is extremely welcoming and friendly and couldn't thank everyone at Glanmor enough! Glanmor and the owners are the best ! Defintly recommend to everyone !! Love it here always have and always will ! Thank you so much Millie x
Tips:
When I come to st ives with my family I always end up on the beach in the summer rain or shine ! Then go into the town for dinner which I recommend the firehouse opposite the union pub about a 5 min walk from Glanmor. However recently came in April and with the usual April showers only made it on the beach 3 times, so me and my boyfriend went on walks around st ives which cost nothing and is so beautiful seeing st ives/Cornish coast. We also went to the balcony to watch the football and had a few drinks which there cocktails are amazing and Brandon loved the milkshakes ! Lovely sea view from window on the Main Street. There are lots of things to do in st ives such as Surf school on Porthmeor beach, Canoeing on porthminster, A 25 min drive out of st ives is flanbards a great day if you have kids and it's raining! Or just explore go to the Cornish pubs(the sloop) Cornish walks and sometimes have food festivals and little arty bits and bobs going on in st ives.
Would Recommend: Yes
26th September 2017:

Lovely friendly atmosphere 2nd time staying and wouldn't stay anywhere else now rooms beautiful breakfast amazing just fab always
Would Recommend: Yes
22nd September 2017:

Very friendly and relaxed atmosphere, flexible and good choice at breakfast excellent porridge.
Tips:
Very hilly with good short cuts to town centre but you need to be fit for the return unless you catch the regular shuttle bus.
Would Recommend: Yes
15th September 2017:

A beautiful house with a lovely garden. The room was very clean, spacious and well furnished. Everyone was very friendly and helpful we could not fault anything and would not hesitate to stay here again.
Would Recommend: Yes
15th September 2017:

Everything was perfect. The room was very clean and spacious. There was a great choice in breakfast.
Tips:
Things to do: take the bus tot Lands End en follow the coastal path to Sennen Cove and than go further to St Just. Beautiful!!!
Would Recommend: Yes
11th September 2017:

Excellent decor and bedroom furnishings. The only drawback was a very cramped bathroom. However one does not spend a lot of time in bathrooms !
Would Recommend: Yes
11th September 2017:

Fantastico holiday St. Ives and Glanmor very lovely, delightful rooms and Fantastico location.
Would Recommend: Yes
16th July 2017:

Lovely Family run B and B,good food and nice clean room.
Tips:
Short walk to the town/beach,there is lots of steps so you need to be fit! Lots of places to eat in the town,but you do need to book,lovely beaches.
Would Recommend: Yes
10th July 2017:

Nice
Would Recommend: Yes
26th June 2017:

Quiet location but not far to walk to the town. Rooms were beautifully clean and decor tasteful. Breakfast choice was wide and of excellent standard. A very friendly and helpful service from Paul, Dennis and Margaret. Would definitely stay again and will recommend to friends.
Tips:
Come prepared for changeable weather!
Would Recommend: Yes
3rd June 2017:

Would Recommend: Yes
25th May 2017:

Very lovely house. Beautiful nice Family. Fantastic breakfast
Tips:
Sea Food Cafe
Would Recommend: Yes
17th May 2017:

Very warm welcome, lovely room with sea view, great breakfast. Superb!
Would Recommend: Yes
29th April 2017:

Breakfast superb. Very friendly and helpful.
Would Recommend: Yes
2nd October 2016:

Would Recommend: Yes
20th September 2016:

Lovely b&b everything is beautiful from the room,breakfast, Margaret Paul and Dennis. Would love to stay here again as you are made to feel very welcome, everything is spotless homely and comfy. The breakfast was plentiful and delious my husband especially liked the scrambled eggs. Thank you for a lovely stay.
Would Recommend: Yes
7th September 2016:

Would Recommend: Yes
4th September 2016:

The Glanmor is beautifully presented and spotlessly clean. The welcome is first class and the hosts are lovely and friendly. Everything about the stay was first class which is why we keep returning. You won't find a better guest house in St Ives
Would Recommend: Yes
21st August 2016:

Lovely owners, very friendly and welcoming.
Tips:
Parking available at B&B which was a bonus as there is not a lot in the town itself. Would recommend Beck's restaurant on the Carbis road, Porthmeor Beach cafe and St Andrews bistro in St Ives, good food and friendly staff. Apart from enjoying the beaches and the town itself I would recommend a trip to St Michaels Mount and also the Minack open air theatre. Kidz r us theatre group put on a very good show if you want a visit to the theatre, amazingly talented young people!
Would Recommend: Yes
13th August 2016:

This is our 4th consecutive year and we enjoyed our stay this year as much, if not more, than previously. Margaret, Paul and Den are always friendly and obliging. Rooms spotless and breakfasts gorgeous.
Tips:
Plenty of good restaurants and cafe bars in St Ives. Make sure you make reservations though as tables get booked well in advance. Beaches fabulous and clean in St Ives. Kynance Cove beautiful and can walk to The Lizard. Healeys cider farm and Newquay Zoo good for a day out if weather not great.
Would Recommend: Yes
8th August 2016:

Excellent guest house. Made to feel extremely welcome. Would definitely recommend. Roll on next year.
Would Recommend: Yes
1st August 2016:

We have stayed at Glanmor twice now and each time have had a lovely holiday. Paul and Margaret are very friendly hosts and the breakfast is second to none. Would thoroughly recommend this guesthouse.
Would Recommend: Yes
30th July 2016:

We loved the location but others may find the walk back to be a little hilly but public transport runs to the doorstep. The room was immaculate and we were fortunate to have a sea view.Breakfast was superb and Paul makes everyone feel welcome.
Tips:
Pels cafe on the harbour is a must for reasonably priced excellent snacks.Portminster Restaurant on the beach is excellent sea food with good service. The coastal walks are stunning.Enjoy !!
Would Recommend: Yes
15th July 2016:

Excellent as always
Would Recommend: Yes
23rd June 2016:

Very friendly,
Would Recommend: Yes
9th June 2016:

Everyone lovely, very pleasant and helpful a really nice relaxing and laid back atmosphere, enjoyed it so much contemplating going back for our two week summer holiday instead of the Mediterranean.
Tips:
Ask the owners, their local knowledge is obviously very good and they will give you all the best coves, beaches, And places to eat, Highlights for us being the Minack theatre and the tea room on the harbour front.
Would Recommend: Yes
5th June 2016:

The house was spotless. Staff friendly & helpful. Breakfast first class.
Would Recommend: Yes
3rd June 2016:

Our stay at Glanmor was wonderful. The house is beautiful, spotlessly clean and the bed so comfy I wanted to take it with me. Margaret,Paul and family were lovely and friendly and I don't doubt if you needed anything extra they would be able to help. Breakfast was fabulous - we opted for a cooked breakfast every morning as it was so tasty. Thank you for a wonderful stay!
Tips:
St Ives is a lovely place to visit - bustling and busy in the centre but you don't have to go far for a bit of peace and quiet. We ate at The Mex one evening - Mexican food which was fabulous. Very filling! The restaurant is very small and full when we went but a great atmosphere and very helpful staff. We also ate at The Cellar Bistro - ribeye steak was to die for! Also visit Olives Cafe and The Tearoom if you have the chance. So many great places to eat!
Would Recommend: Yes
3rd June 2016:

Glamor was excellent in every way. The location was superb, the guest house is such a lovely home away from home, and the breakfast facilities were fabulous. I could not fault it. Wifi kept our teen very happy. We also really appreciated the parking on site. Highly recommend it and will definitely book again. Hosts were lovely.
Tips:
We thought Alba was lovely this time round but there are so many great restaurants to choose from. Most people visit for the beaches which are splendid - we came to visit to shop for some art and St Ives has so many wonderful galleries, something for everyone (paintings, ceramics, sculpture).
Would Recommend: Yes
1st June 2016:

Fantastic stay at Glanmor --- lovely immaculately kept house and gardens. Very friendly and helpful hosts. Perfect location close to town/beach, yet super quiet. spacious, nicely decorated room. Fantastic, varied breakfast. Would certainly stay there again and can only recommend.
Tips:
Cellar Bistro --- great food and reasonable prices right in the town center. Blas Burgerworks --- very nice (if not necessarily inexpensive) burger; great, accomodating service.
Would Recommend: Yes
30th May 2016:

Would Recommend: Yes
23rd May 2016:

Would Recommend: Yes
23rd May 2016:

Would Recommend: Yes
13th May 2016:

Would Recommend: Yes
9th May 2016:

We spent a lovely weekend here the rooms are tastefully decorated and very clean. The breakfast menu covers all tastes and if very tasty. The Glanmor is just a five minute walk into town, we received a friendly welcome from our hosts and would recommend a stay here.
Would Recommend: Yes
.