Sea St Ives Apartments
18 Park Avenue
Tel: 07955710624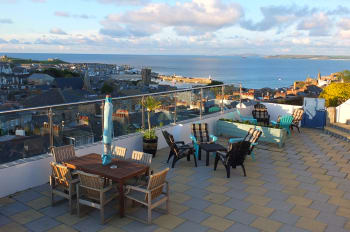 We offer 2 contemporary and stylish self-catering apartments and a self contained en-suite Guest room in the heart of St. Ives. Located a four minute walk from the beautiful cobbled streets of the town our apartments provide a quiet tranquility with stunning panoramic views. Spend your days exploring the vibrant art culture St. Ives is famous for, relaxing on one of its five white sand beaches, or take to the water to surf, stand-up paddle board, coasteer or kayak. Or, explore the South West Coast path and walk to Carbis Bay & Lelant, or Zennor. By night enjoy our al-fresco terraces. Overlooking St Ives harbour and bay, with barbecues and private dining areas provided, it is the perfect spot to enjoy a romantic evening or a glass of wine before the short walk to one of the many wonderful restaurants and bars along St. Ives harbour.
Facilities
BBQ available
Free WiFi
TV in all bedrooms
Under 5's play area
Large terrace with amazing views of St Ives Harbour and bay
Courtyard
Drying Facilities
Garden For Residents' Use
Internet Access
Policies
Check In: Between 15:00 and 23:00
Check Out: Between 6:00 and 10:00
Wi-fi: Wireless internet is available and is free of charge.
Smoking: There is no smoking permitted anywhere within the property.
Parking: Limited parking is available on site at a charge of £6.00 per day. On street parking is available and is free of charge. Parking is available nearby at a charge of £7.00 per day.


Children: Children of all ages are welcome.
Pets: Pets are not allowed.
Groups: Groups are accepted up to a maximum of 5 people. No stag and hen groups.
Average
5.0
out of 5
23 reviews
100% recommend
Reviews
30th November 2019:

This is our second stay at Atlantic view and hope to stay again next year. Tina and John are lovely and so helpful. We love sitting looking at the view with a coffee in the morning. Our son stayed with his two children in Harbours Rest and again Tina and John made sure they had everything they needed. Sue and Mark
Tips:
Love the Lifeboat pub.
Would Recommend: Yes
8th October 2019:

Great apartment (Lighthouse Watch). Clean, comfortable, modern. Great for 4 able bodied people as there are several steps to get to top apartment. I will be booking again as there is so much to see and we only covered half of it.
Tips:
Lots of beautiful coastal walks.
Would Recommend: Yes
Owner Response:
We think it's rather special too Graham, the coastal walks including the South West Coast Path are so easily accessible to us. We look forward to welcoming you back one day, Kind regards Tina & John
30th August 2019:

Fantastic location, lovely apartment 5mins walk into town. Everything you need on your doorstep. Beautiful views from front room/kitchen. Would not hesitate to go back.
Would Recommend: Yes
Owner Response:
Thank you Holly for your lovely review. I'm pleased to hear you loved our apartment & fab location, we are very lucky, Tina & John
13th August 2019:

Would Recommend: Yes
Owner Response:
Many thanks Richard, lovely to meet you and your daughter. Hope to see you again in the future, Kind regards Tina & John
22nd July 2019:

Very friendly and responsible owners. Felt spoiled by location to harbor and overall view from property. Stunning views of sea, harbor and lighthouse island. Best vacation in a long time.
Tips:
Beaches, waves crashing into rocks, Kelly's ice cream, the Hub and many other amazing food and beverage places. Pottery and galleries were some of our favorite places to go. Tate and Barbara Hepworth sculpture garden.
Would Recommend: Yes
Owner Response:
It was a pleasure to meet you both, thank you so much for your fab review. Yes, we feel very spoilt with our fantastic views from Sea St.Ives, it's hard to get anything done whilst watching the boats in the bay but sooo relaxing... Always reminds me of my favourite song by Otis Reading, Sitting At The Dock Of The Bay. Tina
25th June 2019:

Would Recommend: Yes
Owner Response:
Thanks for your kind review Caroline, we hope you welcome you back one day. Kind regards Tina & John
11th June 2019:

The location of the apartment is ideal, being easy to reach by car (and park), being within a easy walk of the centre of town, and having a great view of the harbour. The hosts were friendly and helpful in every respect.
Would Recommend: Yes
Owner Response:
Thank you, it was lovely to meet you both, I'm glad you enjoyed your stay with us. Tina & John
26th May 2019:

This is a lovely, clean, comfortable and tastefully decorated apartament which is equipped with everything you need to enjoy your stay in picturesque St Ives. A beautiful view from the kitchen window will definitely feed your appetite for exploring the area. Perfect location: very close proximity to the town centre and the beaches. Also very good transport links with main turistic atractions. Tina and John are nice and helpful hosts.
Would Recommend: Yes
Owner Response:
Thanks for your lovely review, we think the view from the apartment is spectacular. The transport links are great, and now you can get a 7 day unlimited bus pass for £27 which is brilliant. Sit upstairs and the far reaching views are superb. Tina & John
5th May 2019:

The views from the main window were amazing! Overlooking the harbour with a huge furnished patio to sit on. The apartments decor was lovely, so fresh & clean looking. The owners Tina & John were so friendly & helpful too. Would recommend & will hopefully be staying here again!!!
Would Recommend: Yes
Owner Response:
Glad you loved our uninterrupted views, you can see all the way to Newquay on a clear day. We'd love to welcome you back again. Tina & John
5th May 2019:

John and Tina are a superb couple and always friendly and welcoming. If you have any questions or queries they couldn't be more helpful. They have an abundance of local knowledge which they are more than happy to share when asked. You couldn't wish for two nicer people. We wouldn't hesitate in recommending them to anyone who wants to visit StIves
Tips:
The Sloop Inn is a must and the Pilchard Press a bar that serves mainly hand pulled beers and local ciders. For food we enjoy the Firehouse Bar and Grill food is excellent and the staff are friendly. If you haven't already visited Kynance Cove it is another must, with beautiful scenery and good coastal walking in both directions although the one to the Lizard is easier.
Would Recommend: Yes
Owner Response:
Thank you, its always a pleasure to welcome you both back, some great recommendations here too. We went to Kynance this year for the first time in many years,stunning and beautiful. Tina & John
22nd March 2019:

The owner was extremely friendly, accommodative and lively lady. She goes out of her way to welcome and accommodate all the guests. The location itself is very attractive giving the guests lovely view of the sea while sitting outside in the balcony. The apartments are decorated to the highest standards. As far as visiting again is concerned we would highly recommend the apartments and also intend to revisit again.
Tips:
Local amenities are at walking distance and the main High street is literally 5 minutes away. Town center has a variety to offer in terms of good restaurants. Sea front is further 5 minutes walk and is a great place to walk and relax. ( Weather Dependant)
Would Recommend: Yes
4th March 2019:

Would Recommend: Yes
18th December 2018:

Another brilliant stay in St Ives. It was our first at Atlantic View and it did not disappoint. Excellent location, clean and quiet apartment and Tina and John were very friendly and helpful. The apartment was spacious enough for 2 adults, comfortable bed and the kitchen had all the facilities that you would have at home. Would highly recommend
Tips:
cream tea at Pedn Olva and steak at the Sloop... buy 2 steaks and get a free bottle of wine!!
Would Recommend: Yes
1st December 2018:

From making the booking to our stay in Atlantic View nothing was too much trouble. A warm welcome and ready to help in any way they could.
Tips:
We enjoyed the lifeboat with it's open fire as it was November and the balcony restaurant for breakfast.
Would Recommend: Yes
15th October 2018:

Absolutely loved our stay with you. Having been coming to St Ives all my life...im 44!...was refreshing to stay in another area as have never stayed over this side. The views were fabulous & cleanliness & facilties matched. Will definitely be back & glad we found you!!!
Would Recommend: Yes
9th October 2018:

Would Recommend: Yes
26th September 2018:

Made very welcome on arrival. Beautiful apartment overlooking St. Ives town with great views of the harbour and sea from the very spacious terrace. Very well equipped with everything you could need and immaculately clean! Quite steep hill up to the apartment but well worth it for the views and outside space. Bus available up the hill for £1.20 pp or taxi £3.50. Will definitely stay here again one day! Thank you
Tips:
Coastal walk is a must, beautiful scenery. Seal Island trip was lovely. Peppers Pasta & Pizza was delish! Obviously The Sloop Inn needs to be visited once or twice, maybe more! :)
Would Recommend: Yes
9th August 2018:

Tina and John are really lovely and nothing is too much trouble for them. Their Friendliness made us feel like we had gained new friends. The house is fantastic, everything you could possibly wish for. John was there to meet us when we arrived and told us about good places to eat and visit. We used the Hot tub every day, fantastic. The location of the house is fantastic and the views from the house are wonderful and so near the shops and restaurants. We are so lucky to have the opportunity to stay there and cannot wait to go back.
Tips:
Amazing shops and restaurants. The Rum and Crab Shack is an experience, the Soft shell crab in Tempura Batter is a must and the cocktails are 2 for £10 between 3 and 6 p.m. You can get a bus to Penzance from the bus station and does not take too long to get there, you can jump off at St Michaels Mount too. Also there is a trip on a Wednesday to Truro which is worth a visit, only £6 , bus leaves at 10 a.m. from the Coop near the Cinema, and if they have space you can just pay on the bus, otherwise call into the travel shop near the queens hotel and book it there.
Would Recommend: Yes
Owner Response:
That's fabulous, it was lovely to meet you and so glad you all enjoyed your stay. The Rum and Crab Shack is one of our favourites too. It's worth noting there is another one in Exeter and they run various deals on Groupon regularly. I love the Mussels,chips and drink option for 2/4 people or the Meat/Seafood platter from £19. Of course, St Ives has so many fabulous restaurants you can be spoilt for choice. Look forward to hearing from you again, Tina & John
1st August 2018:

Our first time at Harbours Reach, we loved it ,perfect for going into town even after a day on the beach, hot tube was great. Lovely house with loads of space and artwork .Parking outside was ideal as Parking in Stives can be stressful.Great holiday ,fantastic views , no stress .
Tips:
Sunset at PORTHMERE beach 9pm ish. Sunrise from the master bedroom 5.40am ish
Would Recommend: Yes
Owner Response:
Thank you for reviewing us, we always love to know guests feel the same way as we do about Harbour's Reach. It's a very special place and location. Porthmeor sunsets are amazing, glad you managed to see them. My favourite time of day is spent sitting on Porthmeor watching the sun go down with a bottle of wine - bliss. Don't always catch the sunrise though! Hope to see you again soon, Tina & John
20th June 2018:

John welcomed us on arrival he was very helpful taking luggage to the apartment. We Met Tina and John in the week and they were very helpful and friendly and good have local knowledge of St Ives.
Tips:
Plenty of good restaurant and pubs nearby. Port curio is worth visiting the telegraph museum and local cafes.
Would Recommend: Yes
3rd June 2018:

The owners, Tina & John are both extremely helpful and kind. The apartment is lovely, good for a family of four where kids would sleep together. The view to the beach is outstanding and there is a parking lot right next to the apartment. The town centre and the beach are within short walking distance. Recommend buying a Rover parking ticket if travelling around Cornwall (thanks Tina!).
Tips:
In St. Ives: try Kelly's Cornish Ice Cream next to the Lifeboat Station. Excellent. Try the beaches and walk to the Mount Zion. Outside St Ives: Cape Cornwall (a no miss); Land's End (OK); Porthcurno (Telegraph Museum, beach, Minack-all great); Marazion-St Michael's Mount (no miss); Lizard Point; Trebah Garden; Tintagel Castle (is a no miss); Eden Project & Hangaloose (OK, pricey though).
Would Recommend: Yes
27th May 2018:

Would Recommend: Yes
24th May 2018:

Good view, has parking and comfortable. Owner was also very helpful.
Would Recommend: Yes
Owner Response:
Thanks for your 5 * review, we always appreciate our guests taking the time to review us after their holiday. We hope to see you again soon.Tina & John
.